Configure your Engage user email signature
If you have your Engage user connected to your organization's email client, this does not mean that the emails you send from Engage will use the same signature in your email client.
You will also need to submit a signature for your Engage user.
Here is how:
Navigate to your organization's Engage site. This should look like: "https://[company name].proteusengage.co/" and login.

At the bottom of your profile tab is your user's email signature status section.

Click the settings cog icon will pop up a list of instructions on how to submit your email signature.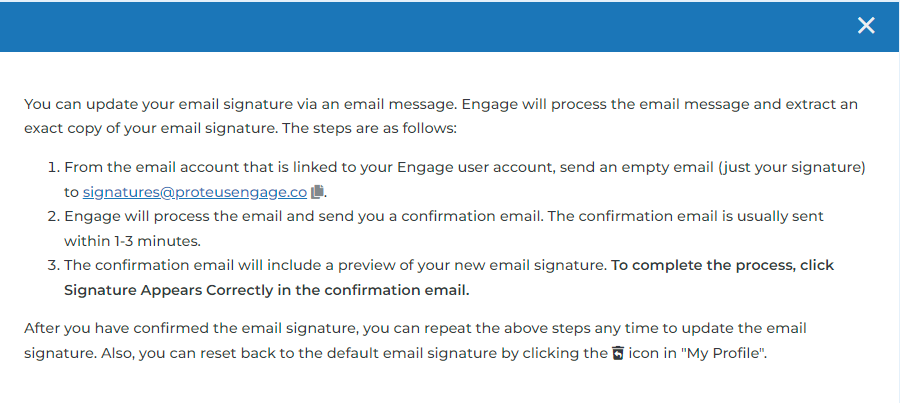 The confirmation email should appear in your inbox a few minutes after you send the email to signatures@proteusengage.co. The email will come from notifications@proteusengage.co.
If you do not receive the confirmation referenced in step 3, please contact support.
NOTE: The email you send to signatures@proteusengage.co must come from an email address that matches the email address inside your Engage user profile.
Once you complete the steps shown in the image above, your Engage user profile email signature status should change to active.
You can see what you current Engage signature looks like any time by clicking the "eye" icon in the email signature status section of your profile.
Understanding Email Signature Status
If the status is Default, this means no signature has been submitted and Engage will use your first and last name from your profile as the email signature when your users sends emails from Engage.
If the status is Approval Pending, this means you have submitted a signature to Engage. But you have not yet clicked the "signature is correct" button in your confirmation email in order to approve. As a result, Engage will continue to use your default email.
If the status is Active, this means you have submitted and approved a signature to be used when your user sends emails through Engage.
If you have a signature in Active status that you want to replace, you can just send a new email to signatures@proteusengage.co containing your new signature. If at any time you want your signature to return to the default (user's first and last name), click the trash can icon to remove your current signature from your user profile. Your signature will use the default until a new signature is submitted and approved.